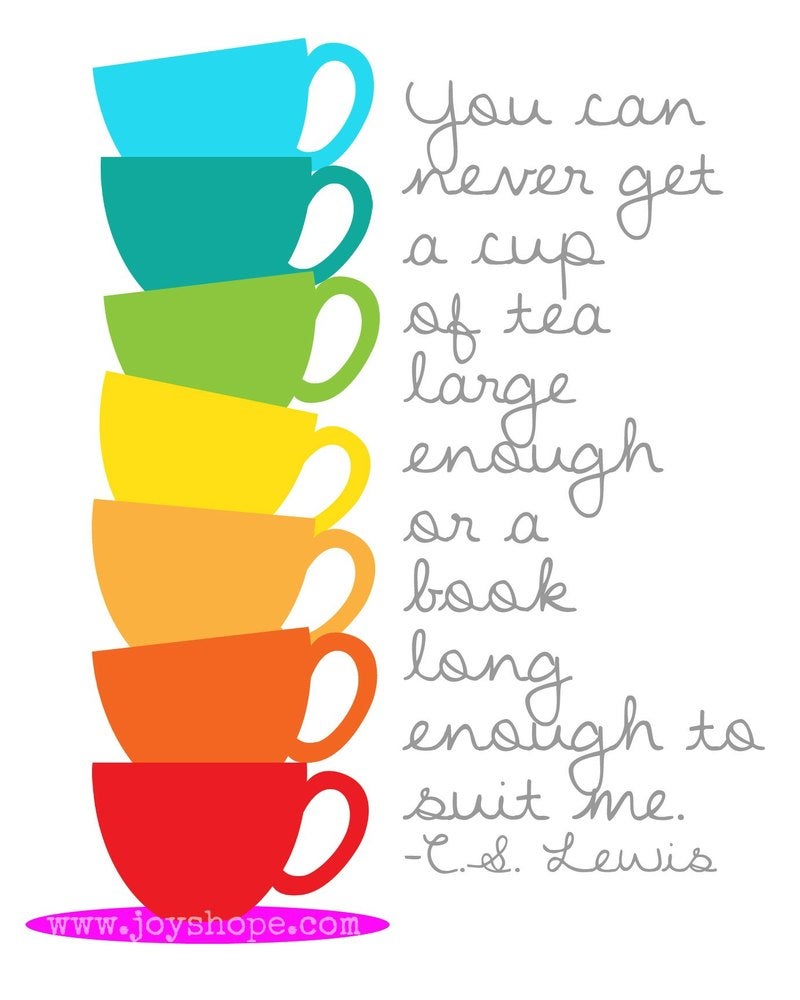 I love this print from Joy's Shop. It describes me perfectly. Did I mention that I'm a tea drinker now? Yes, it's true. I gave up my beloved  coffee.  Stupid kidney stones.
My list of books to read is never ending. My goal is is always have 3 books I'm reading at a time::something that will grow me in Christ, grow my marriage or parenting and one just for fun. 
This week  I'm reading:
Interrupted by Jen Hatmaker :: my daughter,  Taylor, and I are reading this together. You know how some books are a slap in the face? Well this one is a kick in the gut. Enough said.
Created to Be His Helpmeet by Debi Pearl :: I'm re-reading this. A dear friend and I are going through this together. It's a great reminder  that we are called to be our husband's helper…a wonderful place to be.
Pride and Prejudice by Jane Austen ::  Just for fun…because I love it so much! It's one of the few books I will read over and over again.
Tristyn and I are reading:
A Girl of the Limberlost by Gene Stratton-Porter ::  One of my favorite books of all time! I'm so excited that I get to read it to Tristyn. Gene Statton-Porter is one of my favorite authors. I've been waiting to read this to Tristyn for years. It is a book about a girl who loves nature…which describes my little Tristyn perfectly.
Roll of Thunder, Hear My Cry by Mildred Taylor ::  One of our read alouds. So far so good. Tristyn is still too young to understand the kind of hatred portrayed in this book. It also uses the "n" word which I hate. I'm glad we are reading it together instead of just giving it to her to read. We can discuss it together.
Thimble Summer  by Elizabeth Enright::  Tristyn just finished this and loved it.
She also read a book on Helen Keller and loved it.  Tristyn actually has a huge list of books that she is reading for school. I just hit the highlights.  She told me today that she loves it when I make her read books.  Ha! I'll "make" her read all summer too!
I'd love to hear what you are reading, so I can add it to my summer reading list.
"Children are made readers on the laps of their parents."
~Emilie Buchwald